Failing dental implants: Ascertaining the etiology behind a sudden increase
While endosseous dental implants can be a predictable replacement for hopeless or missing teeth, complications do occur. Dr. Scott Froum highlights the top five possible reasons behind an unexpected increase in implant failure rate.
Jul 3rd, 2019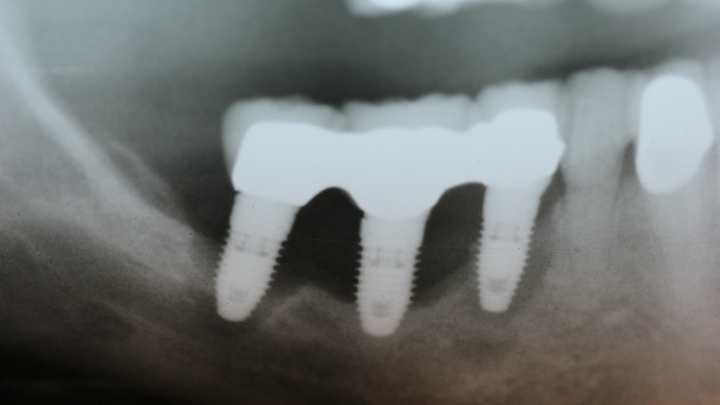 THE REPLACEMENT OF HOPELESS OR MISSING TEETH can be predictably achieved with endosseous dental implants (1), which have demonstrated high survival rates in the literature when used to restore single teeth, multiple teeth, and/or completely edentulous cases. (2,3) Failures, however, do occur (4) and have been on the rise due to an increase in the number of patients being treated for dental implants and clinicians placing dental implants. (5) An implant can still integrate or remain integrated while showing no signs of mobility, but a variety of other complications affecting the implant could still occur. Malpositioned implants, fractured implants or prostheses, and implants ailing with peri-implant mucositis or peri-implantitis are some of those complications that are being seen in increasing numbers. (6)
One of the more frustrating occurrences for clinicians can be when there is a sudden and unexplained increase in the percentage of implant failures or complications in their offices. A recent social media post asking for advice explains it best: "I went my first year placing implants at a solid 99% success rate. Haven't really changed anything in my process, but my failure rate has gone through the roof to like 10%. I'm frustrated. Something has to be causing way more rejection than before. Any ideas would be much appreciated."
This article will highlight the top five possible reasons behind an unexpected increase in the dental implant failure rate.
No. 1: Change in protocol
An audit of one's implant protocol is the first thing that should be done when experiencing a sudden increase in implant failure. As Ben Kacos, DMD, explains, "An increase in confidence in implant placement can necessitate shortcuts. I used to pump the twist drill and use cold irrigation in dense bone, and somewhere along the lines that may have been lost until I reexamined my protocol." Changes in preoperative, intraoperative, and postoperative care, as well as infection control procedure, must all be examined thoroughly.
No. 2: Patient history
Typically, as an implant surgeon becomes more experienced, case complexity can increase. Those cases that may have been referred to another surgeon due to complexities in medical history, social history, and dental history are now performed. As Abraham Heollrich, DDS, explains, "The more implants you place, the more you start placing in less predictable sites/situations. Your failure rate will naturally increase. It's like the best heart surgeons having a higher fatality rate...because they take on the hardest cases."
No. 3: Local anatomy
Once again, complexities in the local anatomy of the bone that may have previously been referred out to other implant surgeons now may be treated by an implant surgeon who is gaining confidence. Nonlateral wall sinus lift kits, osseodensification, short implants, aggressive implants, mini-implants, etc., have increased the ability of the implant clinician to treat the deficient alveolus with implants that traditionally would have required additional augmentation procedures. New technology can certainly push the envelope and be a great advantage to implant dentistry if biologic boundaries are respected.
No. 4: Armamentarium
Changes in implant kits, handpieces, motors, biologic material, instrumentation, and bur sharpness all have to be analyzed if a sudden increase in implant failure occurs. As Audra Ward, DMD, explains, "I had a sudden increase in implant failure when we bought a new handpiece maintenance system. Oil was getting caught in the external water irrigation attachment and was subsequently getting into my surgical sites."
No. 5: Cluster failure
Some patients simply do not accept dental implants and cause a much higher level of failure than average. If a few of these patients are encountered in a short period of time, implant failure rates can increase significantly. One recent study suggests that cluster failure behavior can occur in 5% of patients who are candidates for dental implants and represent 56% of reported failures. (7) This study found that bruxism and antidepressant use were common risk factors for cluster failure at the patient level. At the implant level, common factors were turned implants, short implants, poor bone quality, patient age, intake of medicaments to reduce gastric acid production, smoking, and bruxism.
References
1. Brånemark PI, Hansson BO, Adell R, et al. Osseointegrated implants in the treatment of the edentulous jaw. Experience from a 10-year period. Scand J Plast Reconstr Surg. 1977;16(Suppl):1-132.
2. den Hartog L, Slater JJ, Vissink A, Meijer HJ, Raghoebar GM. Treatment outcome of immediate, early and conventional single-tooth implants in the aesthetic zone: a systematic review to survival, bone level, soft tissue, aesthetics and patient satisfaction. J Clin Periodontal. 2008;35(12):1073-1086. doi:10.1111/j.1600-051X.2008.01330.x.
3. Adell R, Lekholm U, Rockler B, Brånemark PI. A 15-year study of osseointegrated implants in the treatment of the edentulous jaw. Int J Oral Surg. 1981;10(6):387-416.
4. Koldsland OC, Scheie AA, Aass AM. Prevalence of peri-implantitis related to severity of the disease with different degrees of bone loss. J Periodontol. 2010;81(2):231-238. doi:10.1902/jop.2009.090269.
5. Krzyzostaniak L. The state of dental implants in 2017. Dental Products Reports website. http://www.dentalproductsreport.com/dental/article/state-dental-implants-2017. Published October 24, 2017.
6. Mohajerani H, Roozbayani R, Taherian S, Tabrizi R. The risk factors in early failure of dental implants: a retrospective study. J Dent (Shiraz). 2017;18(4):298-303.
7. Chrcanovic BR, Kisch J, Albrektsson T, Wennerberg A. Analysis of risk factors for cluster behavior of dental implant failures. Clin Implant Dent Relat Res. 2017;19(4):632-642. doi:10.1111/cid.12485. 
---
Editor's note: This article originally appeared in Perio-Implant Advisory, a chairside resource for dentists and dental hygienists for issues relating to periodontal and implant medicine. Exclusive content from an academic perspective centers on complex care, solving clinical complications from a team-based approach through interdisciplinary management.
---
 MORE CLINICAL TIPS FROM DR. SCOTT FROUM . . .
---
Scott Froum, DDS, a graduate of the State University of New York, Stony Brook School of Dental Medicine, is a periodontist in private practice at 1110 2nd Avenue, Suite 305, New York City, New York. He is the editorial director of Perio-Implant Advisory and serves on the editorial advisory board of Dental Economics. Dr. Froum, a diplomate of the American Board of Periodontology, is a clinical associate professor at SUNY Stony Brook School of Dental Medicine in the Department of Periodontology. He serves on the board of editorial consultants for the Academy of Osseointegration's Academy News. Contact him through his website at drscottfroum.com or (212) 751-8530.