Case example of an anterior esthetic implant restoration with good surgical-restorative communications
Dr. Scott Froum, co-editor of Surgical-Restorative Resource, and Dr. Neil Cohen team up to detail the steps of a successful case involving an anterior esthetic implant restoration.
Aug 8th, 2012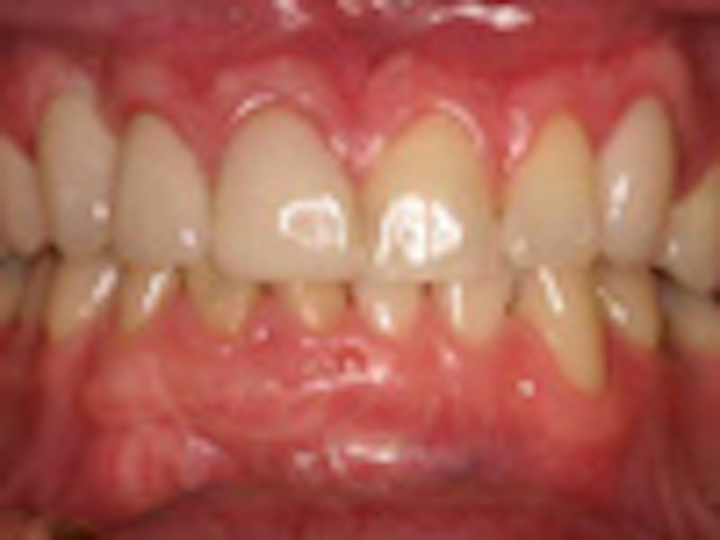 A 37-year-old male with a noncontributory medical history, taking no medications with no known food or drug allergies, presents to the office with a chief complaint of "I don't like the way my upper right bridge looks." His dental history includes extraction of tooth No. 6 two years ago due to a failed root canal and recurrent decay deemed restoratively hopeless. He was temporized one year after extraction with an acrylic bridge from teeth Nos. 5 to 7. Socially, he denied tobacco, drug, and alcohol use. The patient complained of color match, overcontoured bulkiness, and the inability to perform adequate oral hygiene.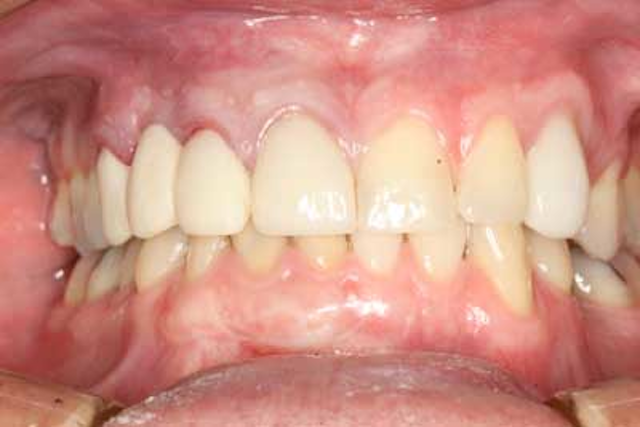 Fig. 1: Preoperative anterior facial view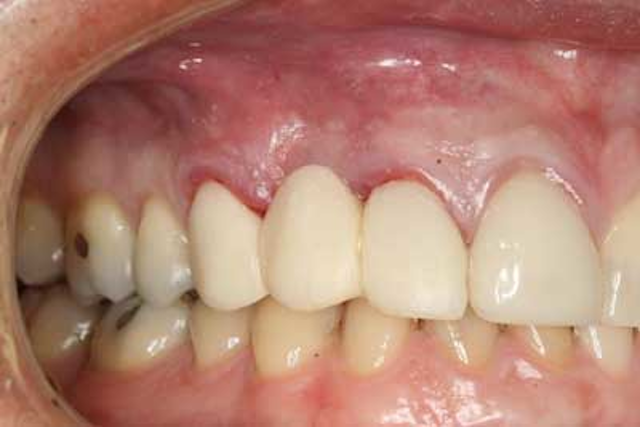 Fig. 2: Preoperative buccal view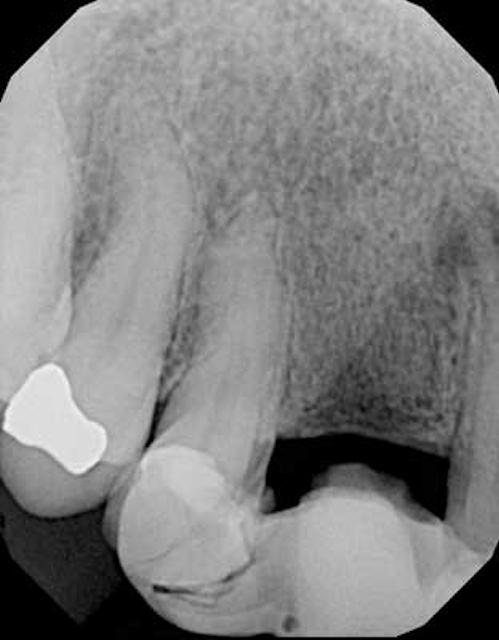 Fig. 3: Preoperative radiograph
Treatment options were reviewed with the patient and because of hygiene considerations, a single-tooth restoration in site No. 6 with single-unit crowns on No. 5 and No. 7 was chosen over a porcelain-fused-to-metal fixed bridge from Nos. 5 to 7. Clinical records were taken, which included preoperative radiographs, a cone beam CT scan, and a diagnostic wax-up. From the diagnostic wax-up, a surgical index was created and used during dental implant placement. Since the site had been edentulous for two years and based on the results of the CT scan, a buccal concavity was noted at the apex of No. 6. After local infiltration, a midcrestal incision was made with papilla sparring incisions. No vertical releases were performed.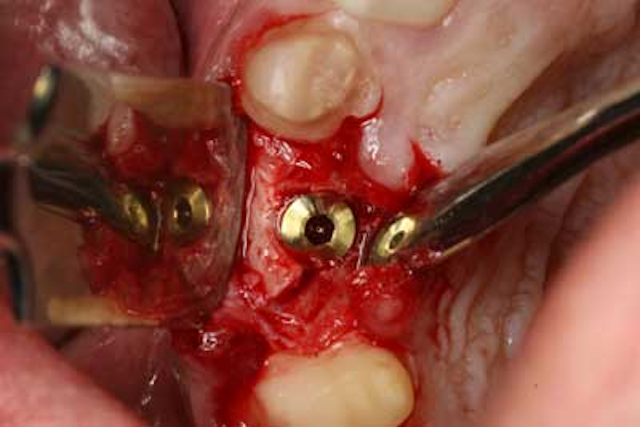 Fig. 4: Surgical placement
Using the surgical index as a reference, a 3.8 x 12 tapered implant was placed in a prosthetically driven manner. During placement, a 3 x 3 mm fenestration of the buccal plate occurred at the apical extent of the implant. Using a combination of enamel matrix derivate mixed with cortico-cancellous allograft placed in a bone syringe, the area of fenestration was grafted. Although the implant achieved 35 Ncm of stability, a cover screw was placed and primary coverage was achieved. A conventional two-stage procedure was selected because of the regenerative demands of this particular case. The area was then temporized with a newly fabricated lab-generated acrylic bridge with careful attention to pontic site development.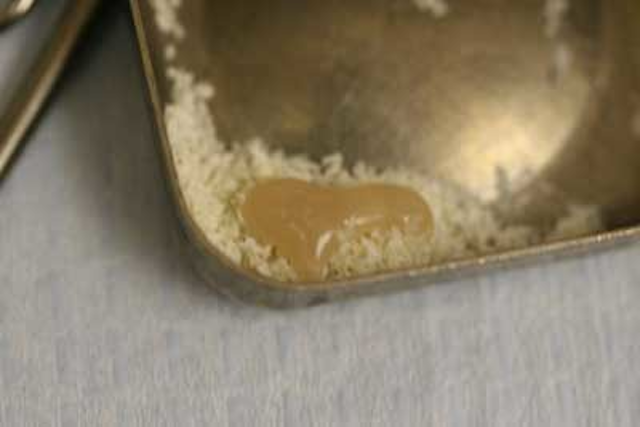 Fig. 5: Addition of enamel matrix derivate and bone graft material
Immediately post-insertion, a periapical radiolucency was detected on the post-insertion radiograph on tooth No. 7 and the patient was immediately sent for root canal therapy. Four months was allowed for implant integration. At the time of Stage II, a noninvasive punch tissue technique was employed and a 3 mm healing abutment was placed. At the time of impression, an open tray technique was used and a custom abutment was selected. Because of the patient's canine guidance occlusion, a porcelain-fused-to-metal crown was selected along with all-ceramic crowns on teeth Nos. 5 and 7.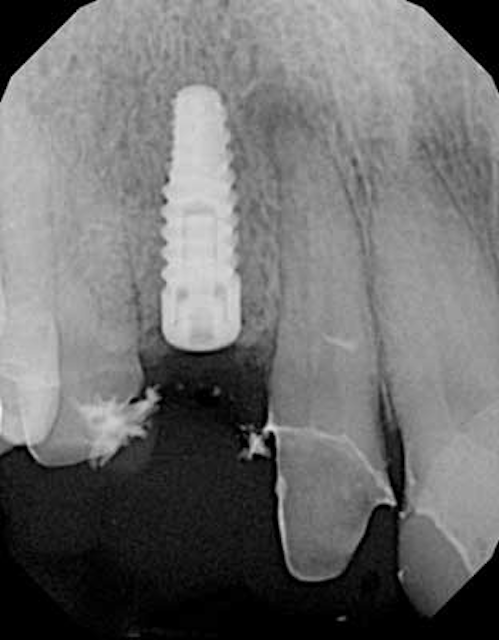 Fig. 6: Postoperative radiograph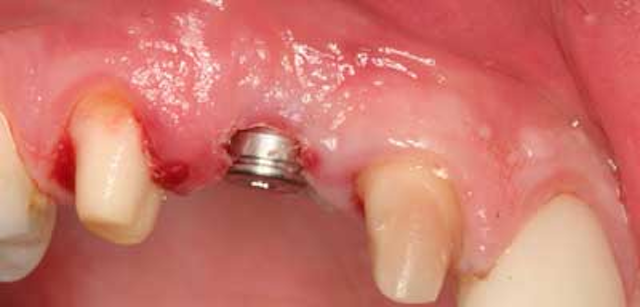 Fig. 7: Stage II tissue punch
One year post-insertion radiographs indicate that bone levels around the implant remain stable. Clinical results 1.5 years post-insertion reveal gingival levels to be stable and healthy, and the patient is very pleased with the esthetic result of his treatment.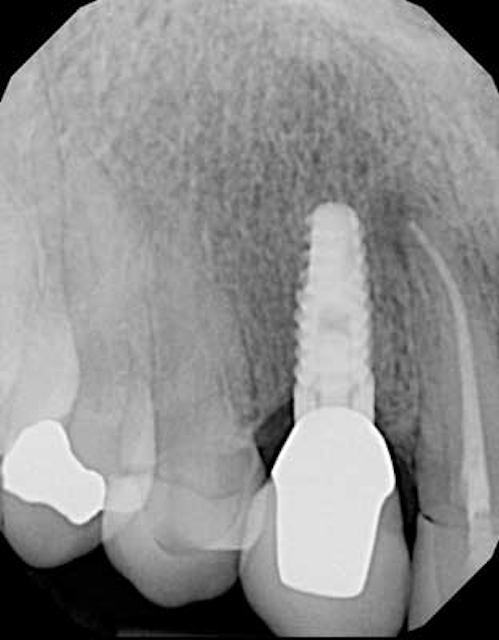 Fig 8: Radiograph one year post-placement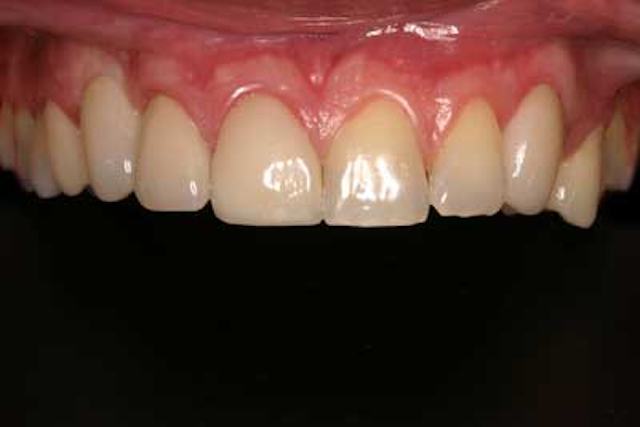 Fig 9: One year post-placement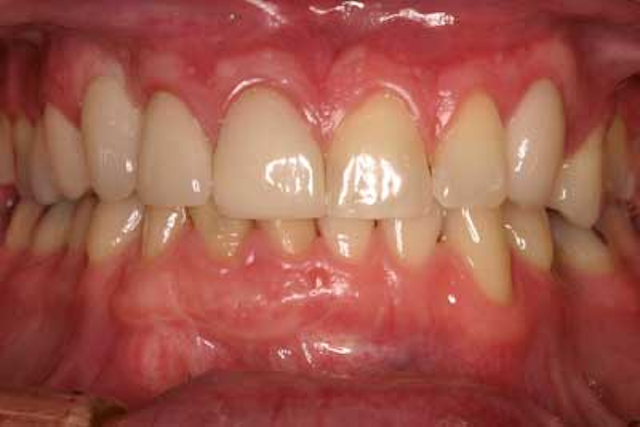 Fig 10: 1.5 years post-placement
Author bios
Scott Froum, DDS, is a periodontist and co-editor of Surgical-Restorative Resource e-newsletter. He is a clinical associate professor at the New York University Dental School in the Department of Periodontology and Implantology. He is in private practice in New York City. You may contact him through his website at www.drscottfroum.com.
Neil Cohen, DMD, received his BS from the University of Wisconsin – Madison with a major in biology. He continued on to receive his DMD from the University of Pennsylvania, where he was the recipient of the Earle Banks Hoyt Teaching Award for his dedication and commitment to dental academics. He completed his three-year specialty training at the University of California – San Francisco, earning a certificate in advanced prosthodontics. Dr. Cohen lectures on topics addressing abutment screw loosening, immediate vs. delayed loading of implants, and space considerations in implant prosthetics. Dr. Cohen maintains a private practice in New York City.