Patients see fast results with new tooth movement system
Dr. Michael Miyasaki explains how patients who have crooked or malaligned teeth can still get the appealing smile they want with a new tooth movement system that was developed in the UK. Minor anterior tooth position discrepancies can be quickly corrected very predictably with a system called Cfast.
Sep 12th, 2012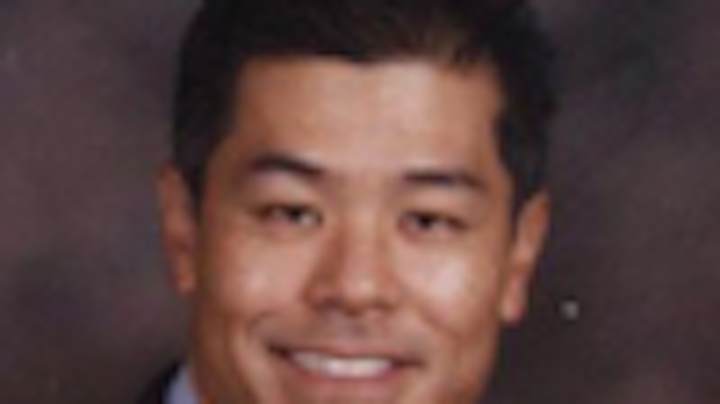 Many of our patients still want an appealing smile, but have crooked or malaligned teeth. This is the perfect scenario for Cfast, which was specifically designed to quickly correct minor anterior tooth position discrepancies in a very predictable manner. Cfast, which meansCosmetically Focused Adult Straight Teeth, is a tooth movement system developed by Dr. Biju Krishnan in the UK.
Let me clarify what Cfast is. Cfast allows us to provide limited orthodontic treatment that focuses on making the teeth the patients see (typically cuspid-to-cuspid) straighter. Because these teeth have single roots and the bone is not as dense, the treatment goes quickly so we can make this much more affordable relative to what many patients think about when considering traditional, comprehensive orthodontics. The dental laboratory determines actual placement of the brackets on the stone models, making this very exact. Placement is guided by a tray delivery system.

Fig. 1

With Cfast, we use ceramic brackets and tooth-colored nickel-titanium wires, so it is very esthetic. An advantage I have enjoyed over the clear tray systems is patient compliance, which is automatic since all the "hardware" is bonded into place. Treatment times are shortened to typically four to seven months. This photo actually shows the author in Cfast:

Fig. 2
Let me now clarify what Cfast is not. We do not try to replace comprehensive orthodontic treatment with Cfast. In fact, we will often recommend that a patient consider comprehensive treatment first. We do not try to replace clear tray orthodontics with Cfast's advantages for some patients. We do not try to change the skeletal relationships of the skull, the occlusion of the posterior teeth, or the vertical dimension. Again, Cfast focuses in on thesmile.
There is a lot we can do with the Cfast system. We can make space for improved implant dentistry. From a very practical standpoint, many of our patients want their lower anterior teeth straightened for better hygiene.

Fig. 3


Fig. 4
Some patients want a nicer smile and to get that smile we have to level the teeth, straighten the arch, or close diastemas.

Fig. 5


Fig. 6

Fig. 7


Fig. 8
Once we got the word out that we were offering this simple solution, our patients began asking about it. It does not take much to get them going since we can offer them the solution they've been seeking. The conservative Cfast approach is quick, easy, and offers a win-win solution to many of my esthetic-restorative challenges.
Author bio
Michael A. Miyasaki, DDS, is a graduate of the University of the Southern California School of Dentistry, and has been involved in dental education for more than 22 years. During 12 of those years, he was involved in live patient treatment programs internationally, giving him a unique perspective on the global challenges of the dental professional. He maintains a practice focusing on comprehensive, minimally invasive, esthetic restorative dentistry and function in Sacramento, Calif. Dr. Miyasaki works with many dental manufacturers and laboratories on product research and advanced protocols, lectures, and publishes articles internationally and through his educational company, Principle-based Dentistry, Int'l. Dr. Miyasaki's primary focus is to bring information to doctors and teams so that they continue to provide high-quality, predictable treatment experiences for their patients. He is the lead educator in North America for Cfast. To learn more about Cfast, visit their website. Call (800) 725.CFAST (2327) for information on upcoming courses.