A novel approach for the treatment of desquamative gingivitis
Periodontal conditions vary in their level of pain and severity, but desquamative gingivitis (DG) is one of those delicate gingival conditions that can be extremely painful for sufferers and may limit their ability to eat and perform basic oral hygiene care. Robin D. Henderson, DMD, MS, explains a technique he uses in his practice that involves Perio Trays custom-fabricated tray delivery system to deliver multiple medications precisely to the affected tissues. The process helps effectively manage both the periodontal and autoimmune symptoms of DG, while empowering patients to have a part in co-managing their disease.
Nov 8th, 2016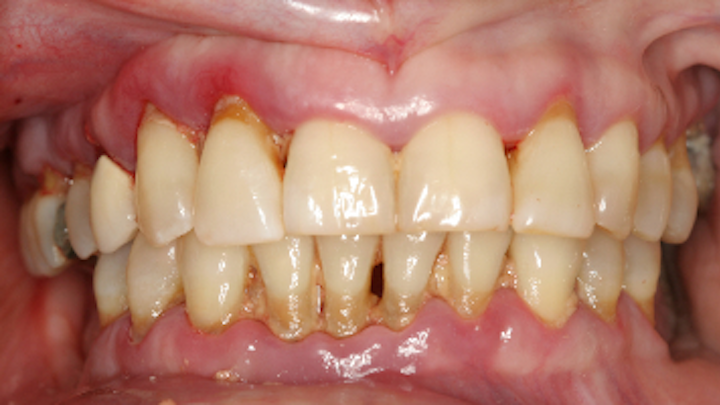 Periodontal conditions vary in their level of pain and severity, but desquamative gingivitis (DG) is one of those delicate gingival conditions that can be extremely painful for sufferers. DG is a term used to describe a number of vesiculobullous oral autoimmune diseases. The most common individual diseases that make up this group are lichen planus, pemphigus pemphigoid, and pemphigus vulgaris. This group of diseases present in a very similar manner with erythema and sloughing of the keratinized gingiva, leaving a "raw" appearance to the overlying tissues. Pain is usually significant and may limit the patient's ability to eat and perform basic oral hygiene care, such as brushing.
DG cases can affect anyone, but a typical patient is female in the fourth through sixth decade of life. Since this is an autoimmune disease, there is no cure. Definitive testing is done by immunofluorescence, which gives a distinct diagnosis. Cicatricial pemphigoid is probably one of the most important diseases to identify as it can cause blindness if it migrates and thus affects the eyes. An examination by an ophthalmologist is necessary if cicatricial pemphigoid is suspected, but generally it is a good idea for anyone who displays symptoms of this disease.

READ MORE |Inflammation of the gingiva: The other reasons besides the obvious
The management of DG symptoms involves several different modalities. The variety of signs and symptoms presented are very similar, so most patients are treated similarly. Numerous therapies are available to assist patients who are dealing with the complications of DG, including surgery, gingival grafting, laser therapy, and systemic and topical medications. Most patients use some sort of topical steroid and anesthetic to ease their symptoms. Lidex (fluocinonide) is the most common topical steroid, and lidocaine is the most common topical anesthetic.
A custom tray delivery system has been used for many years to aid in therapies from bleaching applications to the dispensing of fluoride and medicaments. Recently, with the advent of the prescription-sealed Perio Tray system (Perio Protect LLC, St. Louis, Missouri), the control with which the medicine is delivered has greatly improved.
In our office, the prescription Perio Tray is custom fabricated for the patient base. Patients use Perio Gel (QNT Anderson LLC, Bismarck, North Dakota) with 1.7% hydrogen peroxide to begin the cleansing process. Because the trays are very effective in isolating the affected areas and delivering medications directly to the gingiva, relief is very quick. Many patients have intense pain with DG, so we often recommend using a viscous lidocaine gel in the sealed trays for a few minutes prior to the application of Perio Gel. This allows for some immediate relief to make placing the customized trays and Perio Gel more tolerable.
Once the bacteria are under control and tissue health improves, we add a topical steroid gel to the tray. The most common steroid, Lidex, is readily available from any local pharmacy. The topical steroid helps to control the severity of the DG, thus limiting the pain and destructive nature of this autoimmune syndrome.
The periodontal tissues are greatly impacted in patients with DG, not only because of the autoimmune issues that cause tissue sloughing, but also because of patients' resulting inability to adequately take care of their mouth. Plaque and debris then accumulate, which causes an inflammatory reaction of the periodontal apparatus and thus compounds the problem. The situation is difficult to control when a typical gingivitis/periodontitis reaction is coupled with an autoimmune response. Ideally, the periodontal situation will improve by reducing the bacterial load and reinstituting a good oral hygiene regimen, thus limiting the inflammatory response. Once the periodontal situation is under control, you can then tackle the autoimmune component. Sometimes, the most immediate problem must be addressed before confronting the big picture.
Using the Perio Tray system has greatly improved how we handle both components of this cycle with our patients. Changing medications at various times during the process also helps manage the elements of DG. Having this type of delivery system allows us to customize an individual patient's regimen and thus empower him or her to monitor the situation and adjust medicines as needed. Remember, there are no cures for DG—only effective management.
Typically, a 10-minute application of lidocaine gel gives patients enough relief so they can begin their home care. Ideally the Perio Tray system can then be used for 15 minutes (some patients may only be able to tolerate five minutes), and then the patient may resume normal brushing and interdental cleaning. Once that routine is completed, an application of the topical steroid can be used to help control DG. Our recommended regimen is typically 30 minutes of the sealed tray with Lidex gel. Patients are encouraged to perform this entire regimen at least three times a day. Some individuals have found that 30 minutes of Lidex gel six times per day is needed at the onset of treatment to give them better control.
No DG case is the same, and no DG case can be treated in the same manner. The beauty of the Perio Tray system is that patients can learn what works best for them, ultimately giving them control for their best outcome.
---
Robin D. Henderson, DMD, MS, obtained his dental and periodontal degrees from the University of Louisville in 2000. Immediately after graduating, he moved to Oklahoma City, Oklahoma, where he opened his private practice, the Oklahoma Center for Implants & Periodontics. He is a diplomate of the American Board of Periodontology and currently a clinical assistant professor in the Department of Periodontics at the University of Oklahoma College of Dentistry.