Dental hygiene nightmares no more: At-home maintenance for success with dental implants
It is no secret that the benefits of plaque reduction around teeth and dental implants can improve oral and overall systemic health. Michelle Strange, RDH, MSDH, says it's imperative to spend time with patients to find the best dental hygiene tool(s) for their specific appliance and capabilities. She explains how interdental brushes can be used as an alternative to floss and an effective interproximal cleaner, as well as suggests tips to add to the hygiene armamentarium to customize the at-home maintenance routines for your patients.
Dec 6th, 2016
The importance of plaque removal for the prevention of dental and systemic diseases has been well-documented in the literature. Dental hygiene maintenance programs tailored to the specific patient have become an important aspect of dental care, with approximately 50% of the adult population suffering from periodontal disease and the known increase in the prevalence of peri-implant disease. (1)
Disease progression from gingivitis to periodontitis around natural teeth is very similar to the progression of peri-implant disease from peri-implant mucositis to peri-implantitis, since the etiologic pathogenic bacteria are the same. (2,3) In addition, studies show a similar inflammatory cascade initiated during the disease process of both teeth and dental implants. Similar to periodontitis, peri-implant disease is multifactorial and influenced greatly by individual patient factors. (4) One of the biggest determinants of disease progression is adherence to a proper home-care dental hygiene regimen. (3)

READ MORE |Antibiotic resistance and periodontitis
Understanding the products that patients can use to clean natural teeth and maintain dental implants is imperative if you are to provide appropriate advice about the challenging task of at home maintenance. Interdental brushes serve as an alternative to flossing, can be used daily, and—as suggested by a number of studies—can be more effective for interproximal plaque removal than floss. Interdental brushes with plastic-coated wires, depending on their size and shape, can be effective tools for reducing interproximal plaque (figure 1). (5) Other considerations for recommending interdental brushes include an individual's manual dexterity, how easy the product is to use, and the patient's motivational level.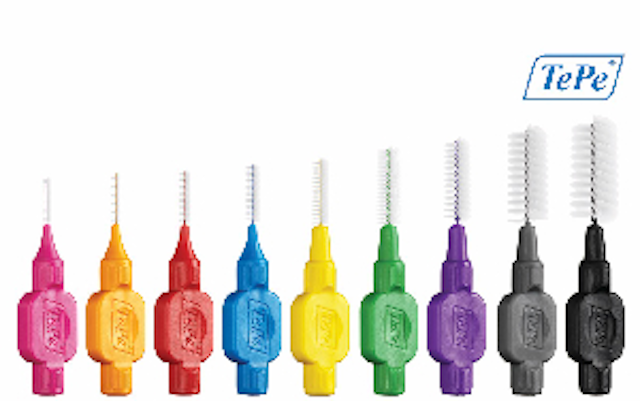 Figure 1
Choosing products to recommend to patients for home use is as important as a prescription given to control systemic concerns. The dental professional should understand the progression of dental disease as well as the behavior of patients to be able to choose products that are customized for them. In addition, decisions regarding hygiene armamentarium recommendations should be evidence based. For instance, research shows that using a tufted floss with a lassoing, circumferential technique is the most effective method to disrupt the biofilm subgingivally when a single implant or implant bridge has healthy tissue, creating a knife-edged papilla, and the implant is not exposed (figure 2). (6)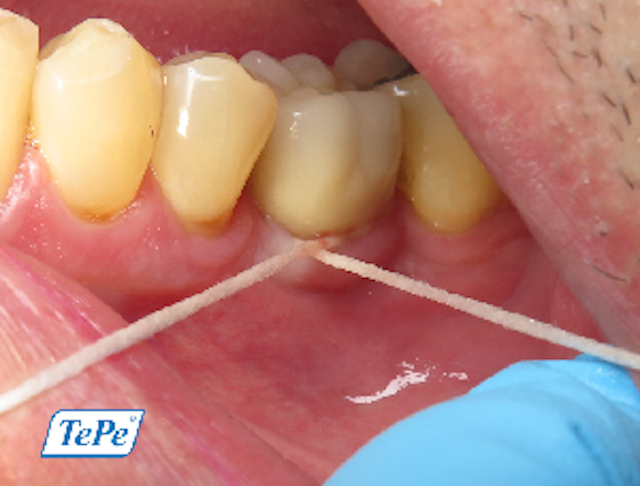 Figure 2
However, when an implant is exposed, revealing its threaded or roughened surface, the tissue is blunted. In the case of removing biofilm around overdenture bars or other overdenture attachments, interdental brushes with plastic-coated wires may be a better option. According to one research study, flossing exposed implants can cause the floss to fray on the roughened implant body, resulting in floss filaments being left behind and potentially creating a foreign body response. In this case, interdental brushes sized appropriately for the space and with plastic-coated wires would be a better tool to use (figure 3). (7)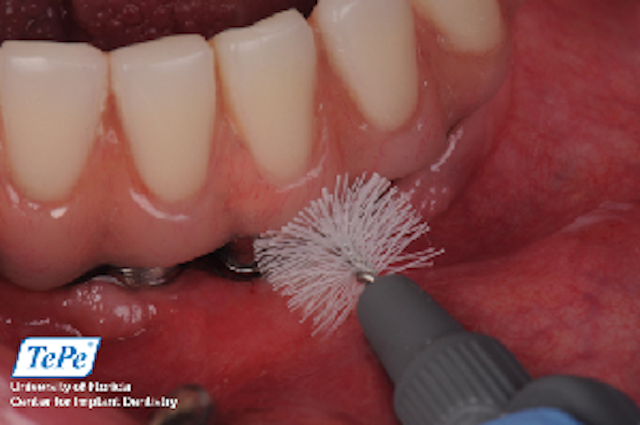 Figure 3
Although an implant-retained, full fixed prosthetic may be a good option for a patient for esthetics and function, a limitation of these appliances is cleansability. Each patient is different and requires a unique, patient-centered care plan depending on his or her level of motivation, ease of hygiene access to the prosthetic, and other patient preferences. Some of these prosthetics are easier to maintain than others. Finding the right products to clean under the prosthetic and around the implants is essential to their success.
Hygiene armamentarium tips:
1. On-the-go options are a great solution—not only for removing any debris that may get caught under the appliance, but also for stimulating the tissue, helping prevent gingival overgrowth (figure 4).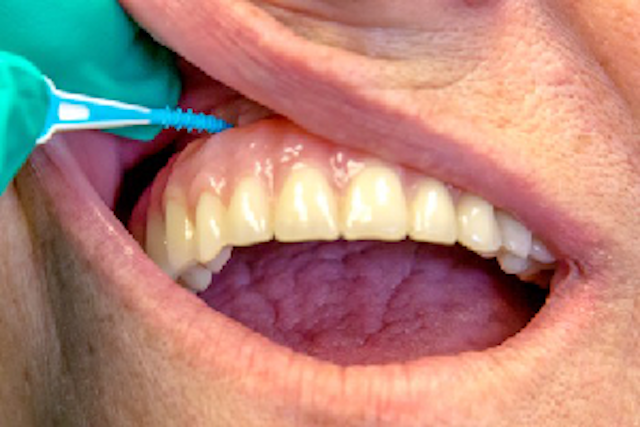 Figure 4
2. Appropriately sized interdental brushes with plastic-coated wires that are safe to use around implants will be helpful. It is important to size the brushes properly so they are easily inserted without causing tissue trauma. Using an angled, longer handle interdental brush may help reach appliances that are high in the vestibule (figure 5).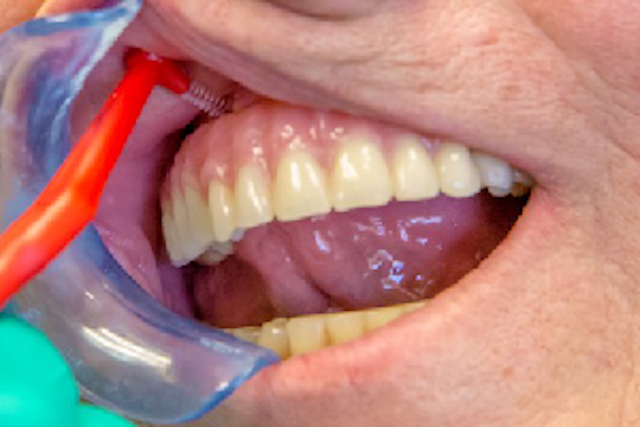 Figure 5
3. If patients have enough dexterity, flossing with tufted floss is ideal. If they are able to wrap the floss and clean circumferentially in a shoe-shining motion, cleaning the entire implant, that's great. But not all patients will be able to perform this action. For those patients who have dexterity issues, creating an overexaggerated C-shape is the next best option (figure 6).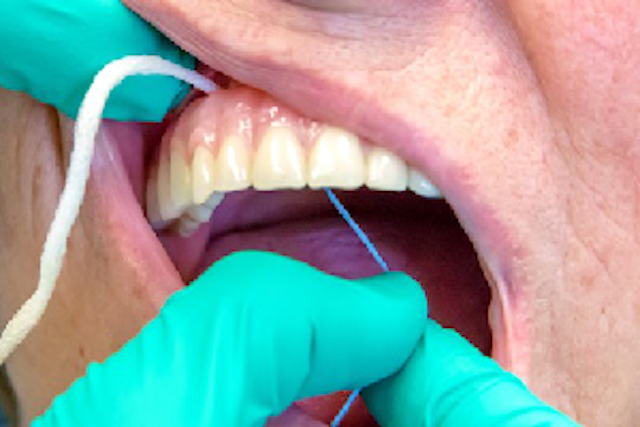 Figure 6
4. There is an array of specialty brushes on the market designed to help patients maintain their fixed appliances at home. Depending on patients' specific needs, physical capabilities, fine motor skills, and their individual nooks and crannies, there is a brush made specifically for them (figures 7–9).
Taking time to sit with your patients and find the best hygiene tool(s) for their specific appliance and capabilities are crucial. Moreover, the benefits of plaque reduction around teeth and implants can improve oral and overall systemic health. We can no longer accept a one-tool-for-all approach; at-home maintenance routines need to be customized.
References
1. Kielbassa AM, Muller J, Gernhardt CR. Closing the gap between oral hygiene and minimally invasive dentistry: a review on the resin infiltration technique of incipient (proximal) enamel lesions. Quintessence Int. 2009;40(8):663-681.
2. Jepsen S, Berglundh T, Genco R, et al. Primary prevention of peri‐implantitis: managing peri‐implant mucositis. J Clin Periodontol. 2015;42(S16):S152-S157. doi: 10.1111/jcpe.12369.
3. Tarnow D. Increasing prevalence of peri-implantitis: how will we manage? J Dent Res. 2016;95(1):7-8. doi: 10.1177/0022034515616557.
4. Marcantonio C, Nicoli LG, Marcantonio JE, Zandim-Barcelos DL. Prevalence and possible risk factors of peri-implantitis: a concept review. J Contemp Dent Pract. 2015:16(9):750-757.
5. Schmage P, Platzer U, Nergiz I. Comparison between manual and mechanical methods of interproximal hygiene. Quintessence Int. 1999;30(8):535-539.
6. Wingrove SS. Peri-implant therapy for the dental hygienist: clinical guide to maintenance and disease complications. Hoboken, NJ: Wiley-Blackwell; 2013.
7. van Velzen FJ, Lang NP, Schulten EA, Ten Bruggenkate CM. Dental floss as a possible risk for the development of peri‐implant disease: an observational study of 10 cases. Clin Oral Implants Res. 2016;27(5):618-621. doi: 10.1111/clr.12650.
---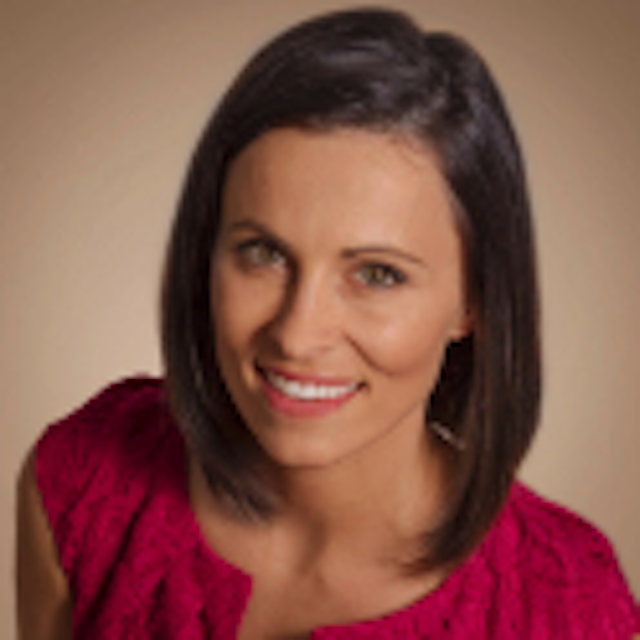 B. Michelle Strange, RDH, MSDH, began her career in dentistry in 2000. In 2012 she received her master's degree in dental hygiene education from the University of Bridgeport. She has practiced exclusively in periodontics as a dental hygienist and surgical assistant, finding true enjoyment in the educational aspect of patient care. This led her to become an adjunct faculty member at Trident Technical College's Dental Hygiene Program. Michelle continues to educate future dental hygienists and is the educational and professional relations manager for TePe Oral Health Care, Inc. Her newest enjoyment is found in co-hosting a podcast for dental professionals, "A tale of two hygienists."