Are you sure I have a cavity?
In dental school, we were taught to rely on a sharp explorer and sharp eyes to diagnose caries. If we can't see it, it's not there, right? Enter DIAGNOdent. Dr. Stacey Simmons shows you how this caries detection device works and how it solidified her patient's trust in her clinical skills.
Jul 10th, 2013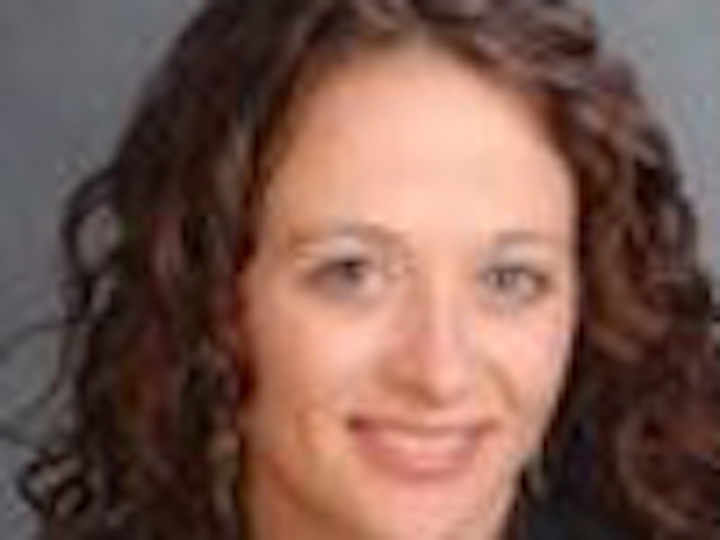 This was the first question out of my patient's mouth when I diagnosed him with a cavity at his new patient exam. Of course he had to ask … his last filling was when he was 14 (he is now 37), and understandably there was an underlying tone of doubt in his voice. After all, what dentist in his or her right mind would look at tooth No. 29 and say, "That's a cavity"? (Figs. 1 and 2)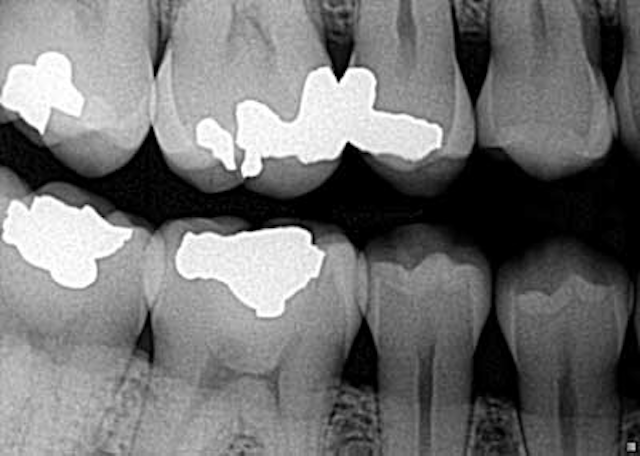 Fig. 1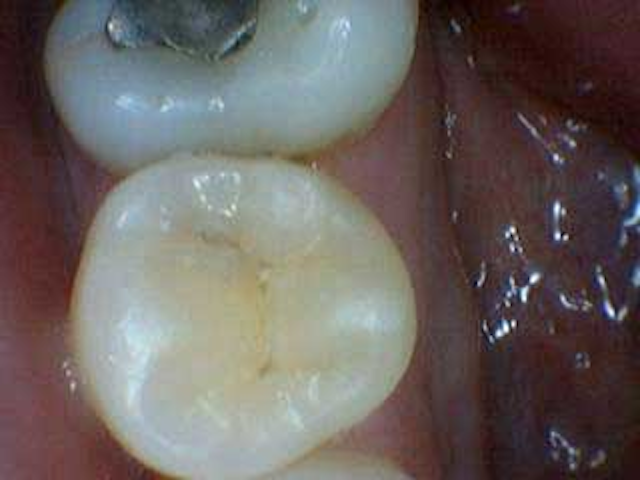 Fig. 2

In dental school, we were taught to rely on a sharp explorer and sharp eyes to diagnose caries. Upon initial examination, I did not consider this to be a cavity. If we can't see it, it's not there, right? Why doubt what we were taught? The answer is simple. Because we can't SEE everything that needs to be diagnosed, we therefore need to utilize adjunct diagnostic tools to be sure we are thorough in our examinations.

ALSO BY DR. STACEY SIMMONS |Head, neck, and oral cancer: A general reference for treatment
The DIAGNOdent (by KaVo) is one of several types of caries detecting adjuncts that can be a part of every practicing dentist's arsenal of gadgets — and I know we have plenty of them. The hidden caries phenomenon is something we all face daily — is it there or isn't it? Is it stain or an actual cavity? Should I open it up or just "watch" it? Should I be conservative or aggressive in my treatment approach?
The DIAGNOdent permits us to DIAGNOSE infection that we otherwise miss and therefore treat. Having such a remarkable tool that apportions us to painlessly, easily, and quickly assess a potential caries situation where there would otherwise be doubt is invaluable. Its readings, when used correctly, are reproducible, accurate, and furthermore promote confidence in the patient/doctor relationship. This is an investment that easily pays for itself time and time again.
How does the DIAGNOdent work? When a tooth presents with altered surfaces, it will fluoresce when exposed to a certain wavelength of light. The DIAGNOdent operates at a wavelength of 655nm. (1) When applied to a healthy tooth surface, little to no fluorescence is present and thus a low numerical reading is displayed. The more compromised the tooth structure, the higher the reading. Readings range from 0 to 99 — the size of caries or demineralized tooth structure is directly proportionate to the reading.
In the aforementioned case, the reading on the occlusal surface was a 46 (see Figs. 3 through 8 below). Look at what was underneath. Surprised? I often wonder how many times per day lesions like this are going undiagnosed.
After the final smear layer was removed, the tooth was filled with Grandio resin. Afterwards, I showed the photographs to my patient. Any doubt that he had was immediately erased. Most importantly, he was grateful and his trust in me was solidified.

Figs. 3 through 8 below ....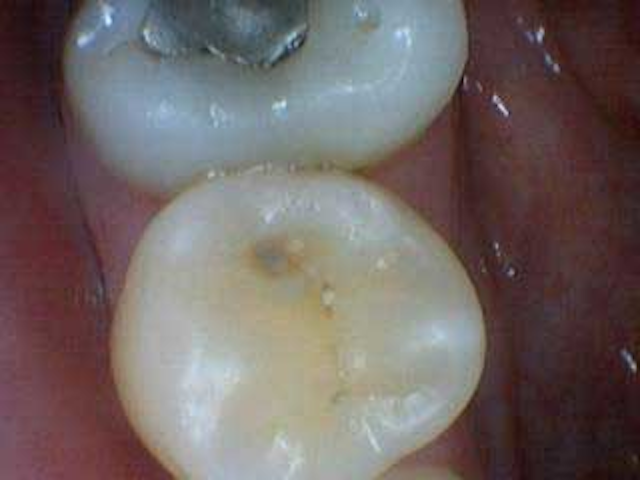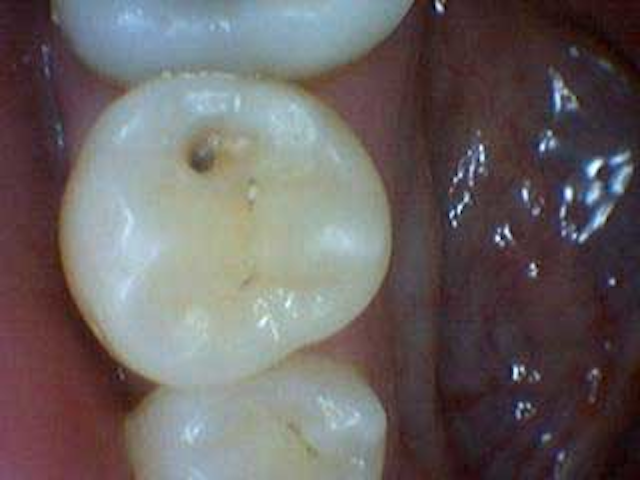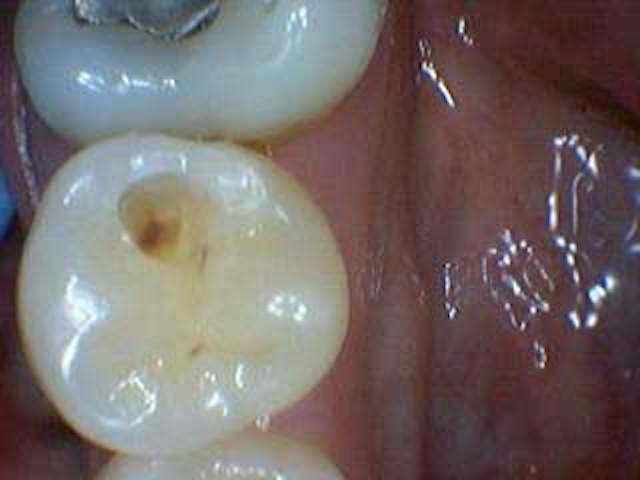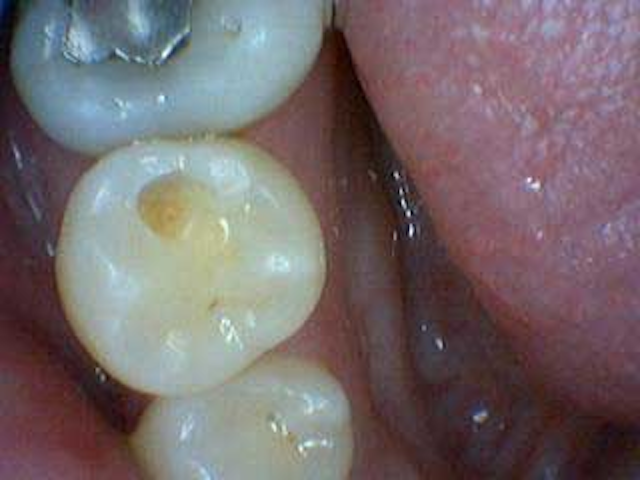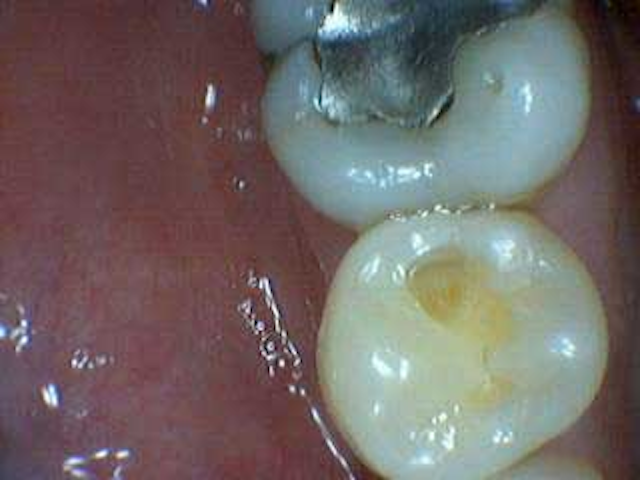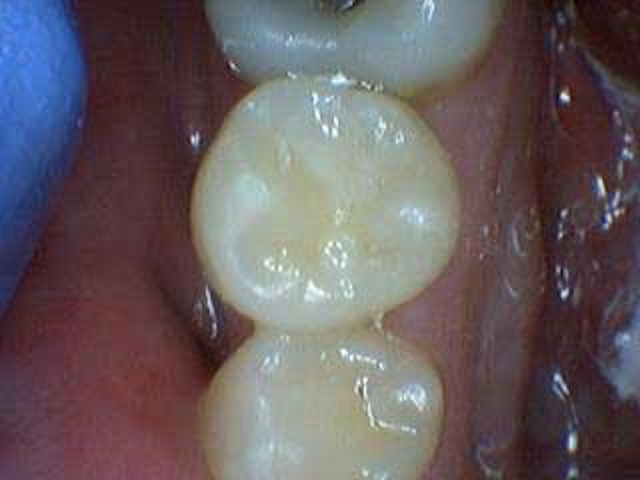 I am a firm believer in technology and its application to enhance our ability to provide superior comprehensive care for our patients. I appreciate that there is uncertainty and reluctance among many to embrace these advances and utilize them; I furthermore understand that there are limitations. In the long run, however, we must do what is best for our patients — they expect it of us and will no doubt settle for nothing less!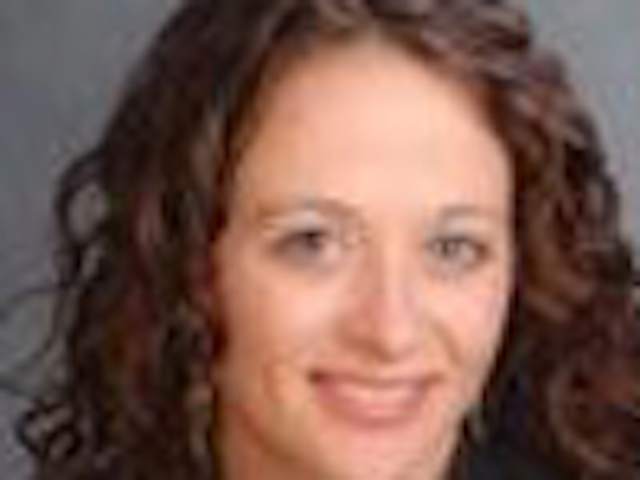 Dr. Stacey Simmons grew up in Hamilton, Mont. She did part of her undergraduate work at Purdue University and then received her bachelor's degree in exercise physiology from the University of Utah. After applying to both medical and dental school, she decided that dentistry was her career of choice. She received her DDS degree from Marquette University School of Dentistry in Milwaukee, Wisc., in 2004. In private practice, she focuses her care on prosthodontics and cosmetic dentistry. She is a guest lecturer in the Anatomy and Physiology Department at the University of Montana. Outside the office, she trains for triathlons and spends time with her family.
References